Control how you collaborate
Collaborate on documents, send and receive emails, manage your calendar and chat via video without having to leave your office.
Hosted and developed in Europe
- 100% open source
- Hosted by IONOS
- Developed in Germany
- No limits on storage or number of users
Fully integrated productivity
- Source files, edit documents, chat and access your calendar and email all from one place
- Access files from anywhere thanks to a simple user interface for browsers and mobile apps
- Exchange data easily with colleagues, business partners and customers
Industry-leading security
- Multiple encryption for data and communication
- Comprehensive monitoring and audit logging
- Extended privileges, user access controls and authentication tools
Working together towards data sovereignty
Benefit from the exclusive partnership between Nextcloud and IONOS. IONOS hosts your Nextcloud applications according to strict EU security and data protection regulations. Rest assured knowing you're 100% GDPR compliant and are protected against third-party access.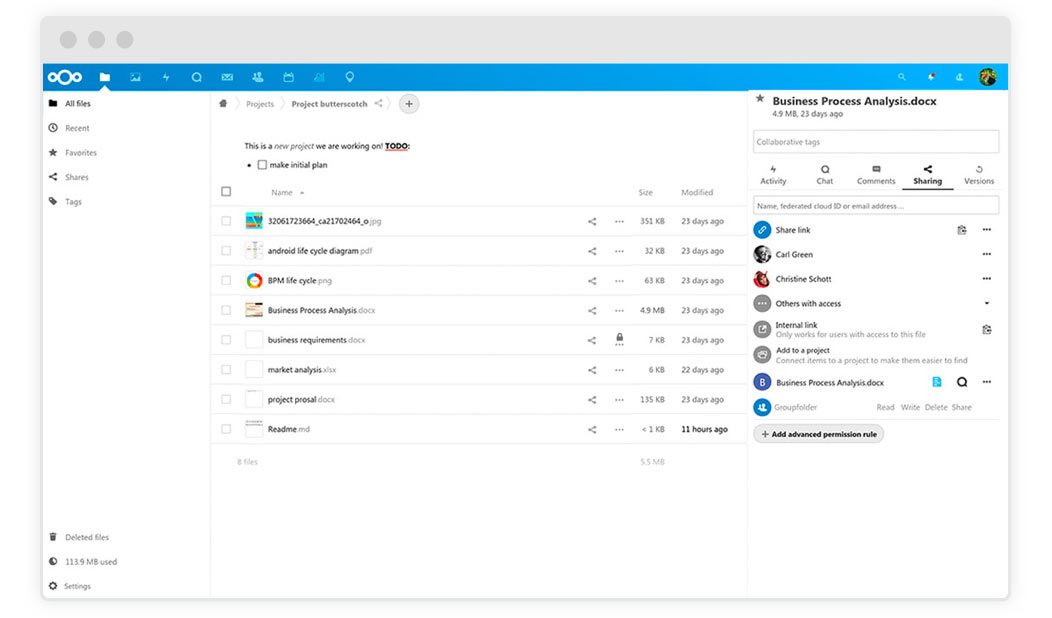 What's included?
Nextcloud Files

Universal file access and synchronisation with powerful collaboration features and enhanced security.

Nextcloud Photos

Easily browse, view and share your images.

Nextcloud Contacts

Sync contacts from different devices and edit them online.
Nextcloud Talk

Secure workplace communication with audio/video conferencing, document exchange and chat messaging.

Nextcloud Flow

Automate repetitive tasks with an easy, graphical user interface.

Online Office Suite

Office Suite allows real-time editing of all Microsoft Office documents, spreadsheets and presentations.
Nextcloud Mail

Send and receive emails in no time with easy-to-use folder management and end-to-end encryption with OpenPGP.

Nextcloud Calender

Arrange your work schedule and meetings online. Create multiple calendars and integrate external calendar resources (WebCal).
Sign up for the Nextcloud Hub