Success Story – E-Commerce
Maximum performance and stability with the IONOS Cloud Compute Engine
The coretress program expands the cloud infrastructure for a multi-shop system
The company coretress GmbH, the full-service IT system provider from Cologne, offers a comprehensive portfolio of services for small- to medium-sized enterprises. The IT system provider picked the IaaS specialists from 1&1 for the configuration, updating and expansion of a cloud infrastructure for an eCommerce shop system with multiple individual shops. The range of services comprises IT service with desktop and server management and IT infrastructure, as well as analysis, virtualization and IP telephony. Also included is IT security with backup, firewall and patch management, as well as cloud IT with email archiving, cloud workstations and servers, data backup in the cloud and other services.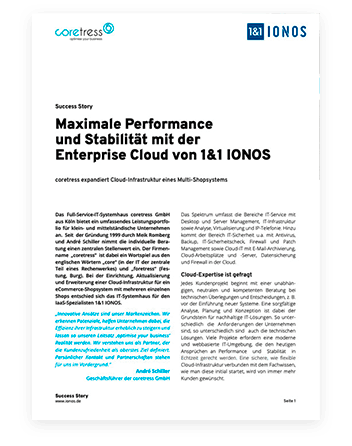 "The Data Center Designer from IONOS by 1&1 is a unique visualization tool to create and manage virtual data centers. Its user-friendly graphic interface provides all the features we know and appreciate from physical data centers."
André SchillerCEO coretress GmbH
Start your 30-day free, no obligation trial
No fixed contract periods
Free 24/7 SysAdmin support
Do you have any questions about eCommerce solutions with the Compute Engine?
Would you like to clear up any questions in a personal consultation?
We'll get back to you during our business hours: Mon–Fri, 9:00 am–6:00 pm