Success Story – Managed Cloud
On cloud nine with a hybrid cloud solution
Managed Cloud – Lufthansa City Center
Lufthansa City Center (LCC) provides its roughly 300 travel agency customers with IT resources in the form of virtual desktops. These virtual desktops are fully managed by Lufthansa City Center. This requires a flexible, scalable, and secure infrastructure with interconnection. Equinix ticks all these boxes and was the ideal choice as infrastructure provider due to its extremely failsafe system and extensive service guarantees. In the Equinix environment, LCC uses a hybrid solution comprising a public cloud and dedicated servers with IONOS Cloud acting as the Infrastructure-as-a-Service (IaaS) provider, as well as dedicated hosts provided as a colocation service by Axians.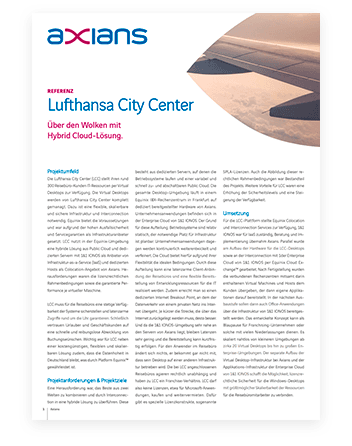 "The separate arrangement of the virtual desktop infrastructure at Axians and the application infrastructure at IONOS Cloud
enables us to combine licensing security for the Windows desktops with maximum resource scalability for the travel agency employees."
Cornelius MarksTeam Leader IT Operations at Axians
Start your 30-day free, no obligation trial
No fixed contract periods
Free 24/7 SysAdmin support
Do you have any questions about managed cloud solutions with the Compute Engine?
Would you like to clear up any questions in a personal consultation?
We'll get back to you during our business hours: Mon–Fri, 9:00 am–6:00 pm