B2B Platforms
Red Maple Technologies prioritises data privacy with the IONOS Cloud
Red Maple Technologies is a boutique technology consultancy specialising in cybersecurity and digital transformation. Its personnel are world-class experts in a fast-moving and increasingly high-profile industry, with many having previously worked in government and defence roles, including with the UK's Ministry of Defence and the UK's intelligence community. Tasked with building and maintaining a secure communications capability in the cloud for a government-backed European financial institution, it turned to IONOS Cloud for its infrastructure requirements. Thanks to its European headquarters and data centres, which place it outside the reach of the United States' CLOUD Act, the IONOS Cloud satisfied Red Maple Technologies's privacy and data ownership requirements. Additional benefits include the services' cost-effectiveness and highly-responsive technical support.
Download Success Story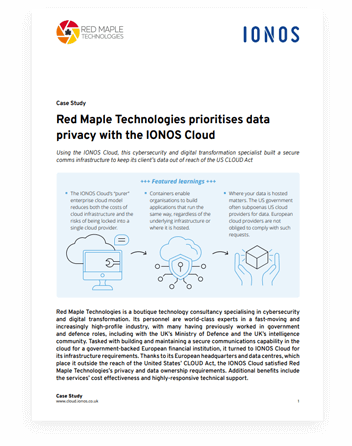 "The handful of times we've needed support, we've got it in minutes, and it has felt like talking to an engineer. That's exactly what you want as an engineer. In one example, when setting up a VPN in the Kubernetes cloud wasn't working as expected, the IONOS technician offered to take our scripts and have a go themselves. That was good to see because you don't tend to get that from other providers in my experience. It would just be very much transactional."
Chief Technical Officer, Red Maple Technologies, David Griffiths

Start your 30-day free, no obligation trial
No fixed contract periods
Free 24/7 SysAdmin support