Managed Nextcloud from IONOS Cloud
Work together in your own cloud
Industry-leading security

Communication and collaboration tools

Hosted and developed in Europe
See packages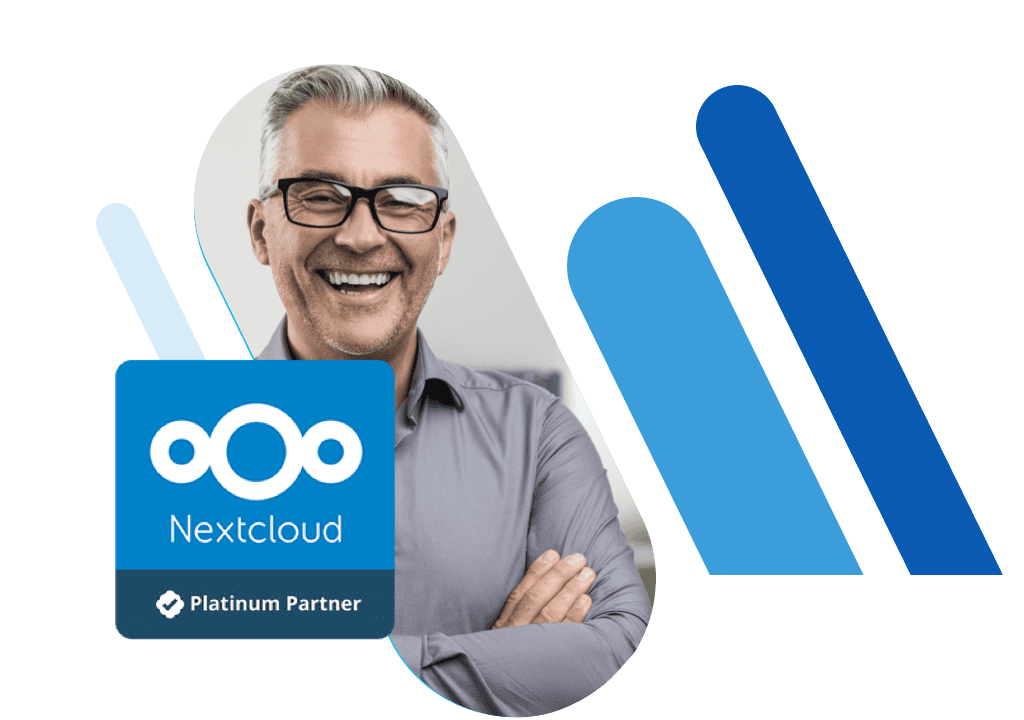 Reliable, safe and sustainable hosting
Giving you the best Nextcloud experience while respecting the environment.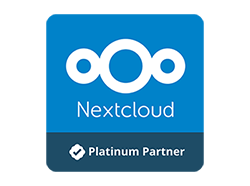 Platinum Partner
As a Nextcloud Platinum Partner, IONOS works closely with Nextcloud, offering a powerful cloud platform and support tailored to Managed Nextcloud.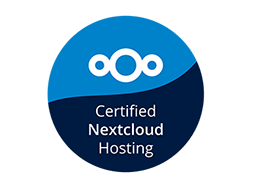 Certified infrastructure
We provide you with a high-performance environment that meets the highest standards. Managed Nextcloud was certified by Nextcloud as part of a comprehensive system audit.
Green hosting
The European data centres that host your Nextcloud are solely powered by renewable energy, and our energy management systems are ISO 50001 certified.
The open-source solution for GDPR-compliant teamwork
Flexible cloud storage for small and medium-sized businesses.
Store, manage and edit data together
Work together with your colleagues or partners via a central interface. Create documents, files and folders, and keep them private or share them. With advanced rights management, you'll always have control over who can access what.
Whether you're working with your team or externals, all changes and comments are automatically synchronised. Previous file versions are always available if you need them. And you can brand your Nextcloud with a personalised URL and your logo.
Industry-leading security standards
Managed Nextcloud provides a whole new level of security. Set individual access rights, and monitor and log all activities. This makes it easier to adhere to compliance guidelines, and also simplifies reporting and auditing.
Flexible and efficient collaboration
Improve your teamwork with highly secure collaboration and project management tools. Hold video conferences in your own cloud with the Talk app. All conversations and content are protected from third-party access in secure European data centres.
Nextcloud Groupware includes a team calendar, address books, webmail and a Kanban board. All data is always synced for all users on all integrated devices. Connect with Microsoft Outlook, and add more apps to improve your productivity and security.
Access anywhere, anytime
In the office, at home or on the go, Nextcloud gives you secure access to your data from any device.
Intuitive user interface
Mobile apps for all the main platforms
Desktop clients for Windows, macOS and Linux
Access files using WebDAV
Integrate your existing Google or Dropbox storage
See Managed Nextcloud in action
In this video, you'll get a quick overview of all the ways Managed Nextcloud makes teamwork easier.
Please note:
To view this video, you need to enable third-party cookies.
You can view and change your preferences
here
.
Choose your Managed Nextcloud package
Maintenance and updates by IONOS
All prices exclude VAT charged at 20%. VAT may be subject to change depending on your country of residence. Terms and conditions
apply
.
Looking for an individual solution?
Tell us about your needs and we'll help you find the right option.
Top security. Peak performance.
Our ISO 27001-certified data centres are among the most secure in the world. Regular maintenance and updates make sure our network, hardware and software components meet the latest tech standards. We are proud to be a Nextcloud Platinum Partner, giving you powerful cloud infrastructure combined with individual support.
As a leading European cloud and hosting provider, we rely on state-of-the-art security technology to cover all eventualities. This includes daily backups, and sophisticated protection against DDoS attacks and other threats. And you'll have access to tailored support, if and when you need it.
Key features of Nextcloud hosting
Synchronisation
All files are automatically synchronised so the latest versions are always available.
Sharing
Share files securely via password protected links. Actively manage access rights and user permissions.
Comments
Discuss within the document you're working on, and use the comments feature to resolve questions.
Access via clients
Free desktop and mobile clients (iOS, Android) provide flexible access to all the features of Nextcloud from almost anywhere.
Integrate external storage
Easily integrate your existing cloud storage (Google or Dropbox).
Workspaces
Coordinate team projects more easily with Workspaces. Share information, manage tasks and swap ideas.
Secure data sharing
Protected upload and download links make it easy to share files with all stakeholders.
Delete files remotely
If needed, you can delete all shared or downloaded files from third party devices. This is done centrally in your Nextcloud.
Screensharing
Presentations are straightforward with Nextcloud – just share your screen with everyone in your video call.
Password protected meetings
Invite participants to online meetings with a password protected link that leads straight to Nextcloud.
External participants
You can also make video calls with externals and people who don't have Nextcloud.
Chat
Chat with one person privately or create rooms for group discussions. All conversations are securely stored in Nextcloud.
Desktop and mobile app
Chat and call from wherever you like. Get the desktop app, and the mobile app for smartphone and tablet.
Share files in meetings
Conveniently share files with all participants during online meetings for easier collaboration.
Activity feeds
Get notified via a message or email when files and folders are edited, downloaded or commented on.
Monitoring
You can also use the activity app to keep track of who has modified, downloaded or commented on files, and what was changed.
Account management
Create and manage user accounts and set up group or guest accounts, all from one place.
Two-factor authentication
Prevent unauthorised access with two-factor authentication, and hardware tokens like Nitrokey Pro, Nitrokey Storage and Nitrokey FIDO U2F.
Email
Connect your existing email addresses to Nextcloud Mail via IMAP. Easily manage multiple accounts and add itineraries to your calendar.
Calendar
Organise your day by creating new appointments or adding external calendar resources via WebCal. Share and schedule meetings.
Contacts
Keep your contacts up to date across all devices. Share your address book with your team.
Deck
Create individual or shared Kanban-style boards, create tasks and set deadlines for colleagues.
Forms
Carry out surveys securely in your own cloud. Choose between check boxes and drop down menus according to your needs.
Text
Enjoy uninterrupted group work with a streamlined text or markdown editor that's compatible with MS Office.
Tasks
Create and manage individual or team tasks with start and end dates. Easily sync up with a local client like Thunderbird or iCal via CalDAV.
Mind mapping
Visualise structures and processes with mind maps created in Nextcloud. Share with others as needed.
Maps
Make your own personalised maps with OpenStreetMap and Leaflet. Plan routes, and add photos and contacts to different locations.
Diagrams
Easily create and edit diagrams in Nextcloud using Draw.io.
Circles
The Circles app lets you bring colleagues together in groups. Circles can be completely private and hidden, public, or invitation only.
Bookmarks
Collect, organise and share your bookmarks all in one place.
Polls
Create Doodle-like polls to reach decisions about dates and events with multiple people.
IONOS Managed Nextcloud use cases
Find the right option for your business or project, big or small.
Media and advertising
Simpler organisation means more time for creativity.
Easy data management
Share large files internally and externally
Connect to Adobe InDesign, Illustrator, Photoshop, etc.
Financial and legal services
Maintain the highest data privacy standards and confidentiality.
Powerful server and client side encryption
Extended access controls
Activity logging for compliance and auditing
Clubs and associations
Collaborate and organise your group, with no data security worries.
Create individual permissions for each member
Simple and intuitive to use
Keep track of who has accessed files, and any changes made