Success Story – B2B platforms
Leveraging cloud power: Global Innovations reduces IT costs and boosts innovation
Migration to the IONOS Cloud enabled Global Innovations to lower costs while maintaining high compute performance and encouraging new, cloud-based product development.
For years, Global Innovations used a dedicated hosting service on physical hardware, but high fixed costs left the company looking for a new solution. IONOS Cloud offered the high performance required to best serve Global Innovation's end customers, but with a flexible pricing model.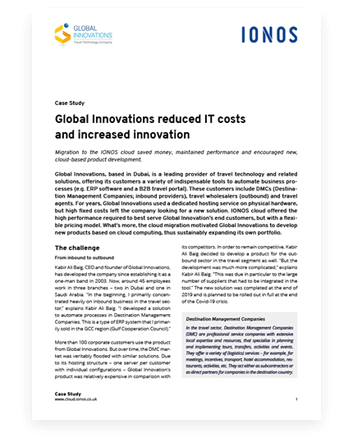 "Finally, I came across IONOS Cloud. The team per suaded me really quickly to implement a first trial project together. Operating the ADS with the help of IONOS Cloud seemed ideal to me."
Kabir Ali Baig, CEO and founder of Global Innovations

Start your 30-day free, no obligation trial
No fixed contract periods
Free 24/7 SysAdmin support
Do you have any questions about cloud infrastructure solutions with IONOS Cloud?
Would you like to clear up any questions in a personal consultation?
We'll get back to you during our business hours: Mon–Fri, 9:00 am–6:00 pm