Success Story – B2B platforms
Maximum data security to protect invaluable data privacy
Since 2013, Pryvate has made protecting data privacy its mission by delivering secure, encrypted communication platforms. Pryvate holds itself to the highest data protection standards, so when the company decided to consolidate its cloud infrastructure, it needed a cloud partner with a similar ethos. IONOS Cloud was selected for the project based on its ability to provide maximum flexibility whilst still maintaining heightened data security.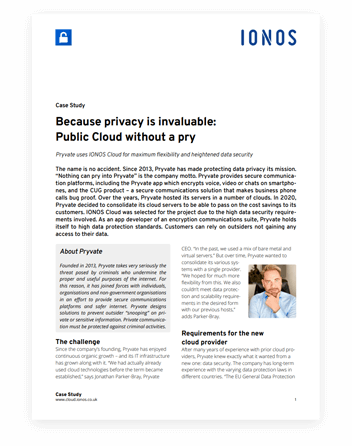 "After extensive research, only one provider was able to meet all our standards concerning privacy and flexibility – and that was IONOS Cloud."
Jonathan Parker-Bray, Pryvate CEO

Start your 30-day free, no obligation trial
No fixed contract periods
Free 24/7 SysAdmin support
Do you have any questions about cloud infrastructure solutions with IONOS Cloud?
Would you like to clear up any questions in a personal consultation?
We'll get back to you during our business hours: Mon–Fri, 9:00 am–6:00 pm