B2B Platforms
The College of Medicine and Dentistry takes finance to the cloud
The College of Medicine and Dentistry was founded in 2018, when it split from the BPP University School of Health. With just two internal IT staff remaining after the split, the college needed to build its own IT capabilities to support existing applications, as well as 200 students and a multinational faculty. The answer was the cloud, specifically infrastructure-as-a-service (IaaS) from IONOS Cloud, which offered the reliability and security required, alongside a high standard of customer service. For the college's implementation partner, Serviceteam IT, the IONOS Data Center Designer made it possible to launch the finance application in the cloud within 24 hours. Working with IONOS Cloud has been more cost-effective than hosting in-house, and the college is now preparing to migrate more applications to the cloud.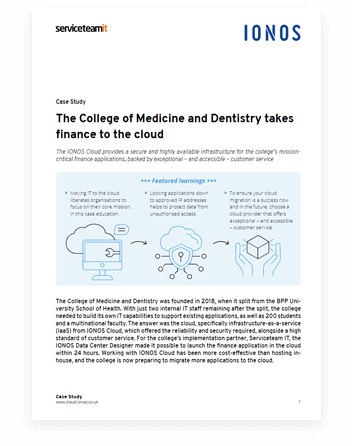 "We have services that are comparable with the large hyperscalers, but they're backed with support where we can actually speak to real people. During lockdown, while our team was working from home, it was difficult to communicate with some larger organisations. IONOS Cloud is always there for us when we need help. It gives us the features, security, and reliability we need."
Sebastian Jesson-Ward, Managing Director, ServiceTeam IT
Start your 30-day free, no obligation trial
No fixed contract periods
Free 24/7 SysAdmin support
Do you have any questions about cloud infrastructure solutions with IONOS Cloud?
Would you like to clear up any questions in a personal consultation?
We'll get back to you during our business hours: Mon–Fri, 9:00 am–6:00 pm